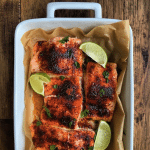 Print Recipe
How To Cook Salmon
I usually cook one salmon at a time, but if you are baking more than one, increase the baking time to 10 minutes.
Preheat your oven to 425 degrees.

Prep and line a baking sheet. If desired, pat your salmon filet gently with a paper towel. Lightly drizzle with some extra virgin olive oil, season with lemon pepper seasoning from Penzeys Spices and some smoked paprika.

Bake in the oven for about 8 to 10 minutes, depending on the thickness of your salmon filet. Remove from oven. Sprinkle on fresh parsley and serve with a lime or lemon wedge. Enjoy!