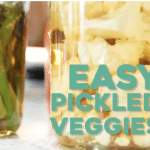 Print Recipe
How To Quick Pickle Vegetables
Feel free to HALF the recipe if you don't need this much pickling liquid. Recipe makes enough for 4 large mason jars. The pickled veggies taste best if left overnight. Feel free to add: Fresh herbs: dill, thyme, oregano, and rosemary hold up well Dried herbs: thyme, dill, rosemary, oregano, or majoram Garlic cloves: smashed for mild garlic flavor, or sliced for stronger garlic flavor Fresh ginger: peeled and thinly sliced Whole spices: mustard seed, coriander, peppercorns, red pepper flakes Ground spices: turmeric or smoked paprika are great for both color and flavor
Assortment of vegetables: carrots

radishes, cauliflower, asparagus, cucumbers; sliced or julienned

Special equipment: mason jars with lids

6

cups

apple cider vinegar

3

cups

sugar

3

cups

water

3

teaspoons

kosher salt
Place prepped and cut veggies directly into large mason jars.

Using a large pot, bring the vinegar, water, salt and sugar to a light boil, whisking until all of the sugar is dissolved. Ladle or pour the hot liquid over the vegetables, individually in their mason jars.

Let sit until the liquid has cooled, for about 25-30 minutes and then seal the jars with the lids and place into the refrigerator overnight, or for at least 1 hour. The pickled vegetables will keep for up to 1 week in the refrigerator in the covered and sealed mason jars.