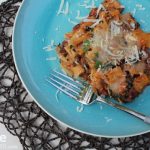 Print Recipe
Baked Mezzi Rigatoni with Pork, Kale and Mushrooms
If you want to make the Pork Shoulder Ragù, please click on the link above for ingredients and directions. MAKE AHEAD: I suggest making the pork a day ahead and then you'll already have it ready for the baked pasta.
2

tablespoons

extra-virgin olive oil

3

cups

of kale

chopped

1

cup

of zucchini

chopped

1

cup

of spinach

chopped (fresh or frozen/thawed spinach)

1-2

cups

of mushrooms

chopped

1

large sweet onion

chopped

Salt and freshly ground pepper to taste

½

pound

of Mezzi Rigatoni pasta

or whatever pasta you prefer

3

cups

of pork shoulder ragu

or ground turkey, or sausage; whatever you prefer

1

cup

marinara sauce; jarred store bought or canned

about 2 cups of shredded or diced fresh mozzarella cheese; split

½

cup

of light

low-fat sour cream

1/4

cup

chopped fresh parsley

Freshly grated Parmigiano-Reggiano for garnish
If using, prepare the pork shoulder ragu.

For the baked mezzi rigatoni, preheat the oven to 375°. In a large, deep pan, heat the olive oil. Add all of the chopped vegetables and cook over moderate heat, stirring occasionally, until lightly browned and cooked, about 5-7 minutes. Season with salt and pepper.

Meanwhile, in a pot of salted boiling water, cook the pasta until al dente. Drain completely and cool under running water.

After the pasta has cooled a bit, put it back into the same empty pot (trying to save some dishes here), and add the pork shoulder ragu, all of the cooked vegetables, additional marinara sauce, 1 cup of mozzarella cheese and the sour cream. Mix thoroughly.

Pour all of your pasta mixture into a casserole dish and sprinkle with the remaining mozzarella cheese if desired.

Bake the pasta for about 30-35 minutes, or until golden. Let rest for at least 15 minutes. Sprinkle fresh parsley and freshly grated Parmigiano-Reggiano and serve.