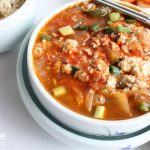 Print Recipe
Soft Tofu Soup (Soondubu Jjigae)
For a non-spicy version, just omit the gochugaru.
1-2

tablespoons

sesame oil

1

cup

of pork

pork shoulder or pork loin (whatever you have, thinly sliced

salt and pepper

2-3

cloves

garlic

finely chopped or minced

1/2

onion

sliced

1 to 1 1/2

cups

ripe kimchi

chopped (with kimchi juice)

1-2

tablespoons

red pepper powder

gochugaru; optional. Use this if you want your soup spicy.

1

cup

vegetable

mushroom or beef stock

1-2

cups

water

2-3

packages soft tofu; depending on how much tofu you want

2

medium sized zucchini

chopped and cut in half

1

cup

fresh cremini

baby portobello or shiitake mushrooms, sliced

2 -3

scallions

sliced + more for garnish; diced

2-3

tablespoons

low sodium soy sauce; to taste
In a soup pot, over high heat, add the sesame oil. After a few minutes so the pot can get hot, add the pork, season with salt and pepper and stir-fry until all sides are browned. Add the garlic, onion, kimchi and gochugaru (if using). Mix well and cook for another 4-5 minutes.

Add the vegetable or beef stock and water to the pot. You want to add enough liquid to cover your pork and then some. Bring to a boil and then lower the heat and simmer for about 30 minutes.

Add the soft tofu, zucchini, mushrooms and scallions and turn the heat up to medium-high; season with the soy sauce. Taste and add more soy sauce if needed. Cook for another 8-10 minutes. Serve and garnish with more diced scallions if desired.