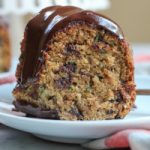 Print Recipe
The Best Zucchini Hazelnut Chocolate Chip Cake . . . Ever.
Note: To help you release your bundt cake with ease, you will need non-stick baking spray and some unsweetened cocoa powder. *For those who don't want a whole lot of ganache on top, reduce the ganache ingredients by half, so only use 4 ounces of chocolate and 1/4 cup heavy cream.
For the cake:
2½

cups

all-purpose flour

½

cup

hazelnut meal/flour

½

teaspoon

salt

1

teaspoon

baking powder

1

teaspoon

baking soda

1

teaspoon

cinnamon

½

teaspoon

ground nutmeg

2

large eggs

½

cup

vegetable oil

¾

cup

applesauce

1

cup

sugar

1

teaspoon

vanilla extract

2

cups

grated or julienned zucchini

skin on

about 2 cups blend of semi-sweet + bittersweet chocolate chips
For the chocolate ganache*:
4

ounces

good quality bittersweet chocolate

chopped

4

ounces

good quality semi-sweet chocolate

chopped

½

cup

heavy cream
For the cake:
Preheat your oven to 350 degrees. Using non-stick baking spray, spray a full sized bundt cake pan and then lightly dust with cocoa powder and knock out any excess. This will help to ensure your bundt cake releases beautifully.

In a large mixing bowl, mix together the flour, hazelnut meal, salt, baking powder, baking soda, cinnamon and nutmeg. Set aside.

In a separate large mixing bowl, whisk together the eggs, vegetable oil, applesauce, sugar and vanilla until light and fluffy, for about 2 to 3 minutes. Using a rubber spatula, slowly fold in the flour mixture into the wet ingredients just until combined. Lastly, gently mix in the grated zucchini and the chocolate chips.

Pour the cake mixture evenly into your prepared bundt pan and bake for 60 minutes, or until a toothpick inserted comes out clean. Remove the bundt cake from the oven and allow to cool for about 20 minutes.
For the ganache*:
Place the chopped chocolate in a medium sized bowl and set aside. Heat the heavy cream in a small saucepan over medium-low heat. Cook until small bubbles start to appear on the outside edge of the cream. It is not necessary to boil or simmer the heavy cream. It just needs to get hot. Pour the hot cream over the chopped chocolate and let sit for about 2 minutes.

Using a wire whisk, gently stir from the middle out, until all of the chocolate is melted and smooth. Allow the chocolate ganache to cool slightly before pouring over the cake. If your ganache cools for too long, you'll need to re-heat the mixture slightly before pouring over the cake. You want the ganache to be silky so it's easy to pour. When pouring the ganache over your cake, start with a little, and again, don't use all the ganache if this is too much. Sometimes, I like to save and use the leftover ganache and enjoy with some fruit. You don't have to pour all of it over your cake.
To serve:
Loosen the edges around your cooled bundt cake with a fork or butter knife and then place your serving platter or cake stand against the bundt cake pan (flat surface directly on top) and invert. Gently tap the bottom of the bundt pan if needed. Your bundt cake should come out perfectly. Pour on the chocolate ganache and serve.