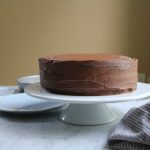 Print Recipe
Sour Cream Chocolate Cake
YIELD: Makes one 9-inch round double layer cake
For the cake:
1 1/2

cups

all-purpose flour

3/4

cup

unsweetened cocoa powder

not Dutch process

1 1/2

teaspoons

baking powder

3/4

teaspoon

baking soda

1/2

teaspoon

salt

1

cup

sour cream

1/3

cup

water

2

teaspoons

vanilla

2

sticks

1 cup unsalted butter, softened

1 1/3

cups

firmly packed light brown sugar

3

large eggs
For the cake:
Preheat your oven to 350°F. Grease or spray two 9-inch round cake pans and line them with parchment paper on the bottom of each cake pan.

Using a large mixing bowl, sift together the flour, cocoa powder, baking powder, baking soda, and salt. In a separate small bowl, whisk together the sour cream, water, and vanilla.

Using your stand mixer fitted with the flat beater attachment, beat together the butter and sugar until light and fluffy. Beat in the eggs, 1 at a time, beating well after each addition. Add the flour mixture to the butter mixture in batches alternating with the sour cream mixture, beginning and ending with the flour mixture and beating until the batter is blended well.

Divide batter between prepared pans and smooth tops. Bake the cakes in middle of oven for about 25 to 30 minutes, or until a tester inserted comes out clean. Cool cake layers in pans on racks for about 10 minutes before turning out onto racks to cool completely.
For the frosting:
In a bowl with an electric mixer beat together the butter and cream cheese until light and fluffy. Add the melted (but cooled) chocolate, vanilla and the confectioners sugar (1/2 to one cup at a time) and beat until combined well.