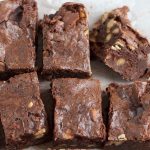 Print Recipe
Slow Cooker Brownies + A Giveaway!
I made these brownies in my KitchenAid multi-cooker but this recipe will work in any slow cooker, with high and low settings. *I highly suggest that you use good quality chocolate.
1 1/4

cups

all-purpose flour

1/4

cup

unsweetened cocoa powder

1

teaspoon

baking powder

1/2

teaspoon

coarse kosher salt

1/2

cup

1 stick unsalted butter, cut into pieces

8

ounces

bittersweet chocolate

chopped*

1

cup

sugar

3

large eggs

lightly beaten

1/2

cup

peanut butter chips or butterscotch morsels

1/2

cup

semi-sweet or bittersweet chocolate chips

Serve with ice cream

optional
Line your slow cooker with parchment paper; use a sheet that is large enough to cover the bottom and go up the sides, all around. This will help you pull the brownies out when they are finished.

Using a small bowl, whisk together the flour, cocoa, baking powder, and salt. Place the butter and chopped chocolate in a medium microwave-safe bowl and microwave in 30-second increments, stirring after each, until the chocolate is melted. Add the sugar and stir to combine. Stir in the lightly beaten eggs.

Mix in the dry flour mixture into the wet ingredients and add the peanut butter and chocolate chips and mix together again (do not over-mix).

Using a rubber spatula, pour the brownie batter evenly into the slow cooker onto the parchment paper and smooth the top where needed.

Cover with the lid and cook on low for 4 hours. After 4 hours, for more cakey brownies, turn the slow cooker to HIGH and cook for another 2 to 3 hours, using a toothpick to test doneness or by pressing your finger gently on top of the brownies; check after the 5th hour, and again after hour 6. All slow cookers work a little differently so you may have to cook on high for 4 to 5 hours. Keep checking. For more gooey brownies, keep on LOW and let cook for 1 to 2 more hours (about 5 to 6 hours total), again using a toothpick to test doneness or by pressing your finger gently on top of the brownies until you get the consistency you want. Remove the brownies from the slow cooker and let cool completely for about 2 to 3 hours before cutting and serving. (Cool overnight if you want them firm like mine). Serve with ice cream if desired and enjoy!!