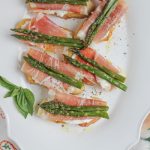 Print Recipe
Roasted Asparagus and Prosciutto Crostini
Makes about 18-20 crostini. *Additionally, if you want more of a kick, you can rub or spread a little roasted garlic on the toasted bread slices before spreading on the ricotta cheese, or you can use extra virgin olive oil with garlic like I did.
1

pound

asparagus

with the hard ends trimmed off and cut into 2 inch pieces

2

tablespoons

extra virgin olive oil; split

kosher salt and freshly cracked pepper

1/2

tablespoon

lemon zest

light squeeze fresh lemon juice

1

loaf of french baguette

sliced

1

container

8 oz fresh ricotta cheese + more if needed

½

pound

prosciutto + more if desired
To roast the asparagus: Preheat your oven to 400 degrees. Prepare a parchment paper lined baking sheet and place the asparagus spears on the baking sheet, making sure each one is laying flat on the baking sheet. Drizzle on about 1 tablespoon of extra virgin olive oil and season with salt and pepper. Sprinkle on the lemon zest and add a very light squeeze of lemon over the asparagus. Bake for about 12 to 15 minutes. (If you like a little more "bite" to your asparagus, roast it for a shorter amount of time.)

While the asparagus in the oven, heat the remaining tablespoon of extra virgin olive oil, in a large non-stick pan over medium-high heat. After a minute, place the baguette slices into the pan and cook on each side until slightly browned and crispy, about 2-3 minutes on each side. Repeat until all of the baguette slices are toasted and feel free to use more olive oil as needed*. Alternatively, you can toast the baguette slices in your toaster oven (as I did in the video).

To assemble: generously spread on the fresh ricotta cheese on each toasted bread slice, top with a slice of prosciutto and then the roasted asparagus. Drizzle with a touch more extra virgin olive oil and season with freshly cracked pepper if desired. Enjoy immediately!