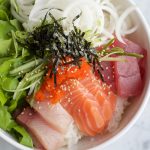 Print Recipe
Sashimi Rice Bowl
Cook time is for the rice.
For the sashimi rice bowl:
4

cups

cooked white

medium-grain rice

2

cups

chopped green leaf lettuce

1/2

Korean radish or Daikon radish

peeled

1

carrot

peeled

1/2

English cucumber

unpeeled and julienned

1

pound

assorted sushi-grade fish

like tuna, salmon, or yellowtail (you could get a 1/3 lb. of each for variety)

Sesame oil to drizzle before serving

2

tablespoons

masago

split

Microgreens or pea shoots for garnish

Gim

dried roasted seaweed; finely shredded for garnish

Sesame seeds
To make the gochujang sauce, whisk together all of the ingredients in a small to medium-sized bowl. Taste and adjust any ingredients as needed.

Using the Chef's Knife from your KitchenAid® 7pc Professional Series Cutlery Set, and working on a clean, flat cutting board surface, slice your sushi-grade fish against the grain into 1/4″ thick slices. Continue until all of the fish has been sliced. Sometimes, depending on the shape of the sushi-grade fish you get, the end pieces will not be the same size; this is fine.

Place your cut sashimi onto a clean plate and cover with plastic wrap and refrigerate if not serving immediately.

To spiralize the vegetables, attach the KitchenAid® 5 Blade Spiralizer with Peel, Core and Slice into the power hub of your Artisan® Series 5-Quart Tilt-Head Stand Mixer. Attach the fruit and vegetable skewer piece and insert the medium spiralizing blade. Secure the daikon radish onto the blade core and turn on your Spiralizer to speed 2 or 4 and spiralize. Repeat these steps to spiralize your carrot. Watch the video for more information on how to use your Spiralizer.

To assemble your Sashimi Rice bowls, grab two large-sized serving bowls and place about 2 cups of rice into each. Top with a cup of the green leaf lettuce, the spiralized radishes and carrots, and the julienned cucumbers, arranging the vegetables around the bowl to leave room for the sashimi. Place the sashimi into the bowl on top of the rice and drizzle with a little sesame oil. Garnish with the masago, micro greens, shredded gim and sesame seeds. Mix in the gochujang sauce and enjoy!