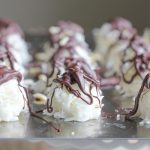 Print Recipe
Coconut Joys
This recipe is very versatile. Add your own twist and have fun with them. This recipe makes 2 dozen tablespoon sized Coconut Joys. Please note the refrigeration time needed.
½

cup

unsalted butter

1 stick

2

cups

powdered sugar

3

cups

sweetened or unsweetened shredded coconut

up to you!

3 to 4

ounces

chocolate

dark, semi-sweet or bittersweet, chopped and melted

Special tool suggested: a cookie scoop

tablespoon sized
Melt butter in saucepan over medium-low heat. Watch the butter to ensure it does not burn. Reduce the heat to low and add the powdered sugar and coconut. Mix well and remove from heat after a minute or two.

Allow the coconut mixture to cool slightly if needed. Using a small cookie scoop, scoop out tablespoon sized balls of the mixture and place on your Heirloom Cookie Sheet.

Drizzle the melted chocolate over all of the coconut mini-mounds. Chill in the refrigerator until firm, or for at least 2 hours.