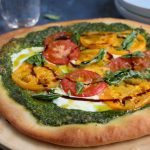 Print Recipe
Caprese Pesto Pizza
If you have avocado oil at home, I drizzled avocado oil over the top of my pizza. It's delicious! Pizza dough makes 1 1/4 lb. dough, enough for a 12-inch thin-crust pizza or a 9-inch thick-crust pizza, or two medium sized pizzas.
For the pizza dough:
1

packet active dry yeast

3/4

cup

plus 2 tablespoons lukewarm water

2 3/4

cups

White Lily all-purpose flour

plus more for rolling

1

teaspoon

salt

1

tablespoon

extra-virgin olive oil
For the pizza:
1

tablespoon

extra-virgin olive oil + more for drizzling

1/2 to 3/4

cup

homemade spinach pesto

see link above

1

tablespoon

melted butter

3 to 4

slices

fresh mozzarella cheese

assortment of red and yellow tomato slices

fresh basil leaves

balsamic glaze

Special equipment: a pizza stone or pizza pan
For the pizza dough:
In a small bowl or measuring cup with spout, dissolve the active dry yeast in the lukewarm water and let stand (do not mix) until slightly foamy, for about 10 minutes.

In a large bowl, stir together the 2 3/4 cups all purpose flour and the salt and form into a mound. Make a well in the center and slowly pour the yeast mixture to the well. Using a fork and stirring in a circular motion, gradually pull the flour into the yeast mixture. Continue stirring until a dough forms.

Lightly flour a work surface with some flour and transfer the dough to it. Using the heel of your hand, knead the dough until it is smooth and elastic, for about 10 minutes. Form the dough into a ball, or round shape.

Brush a large bowl with the olive oil and place the dough in it. Cover with plastic wrap and a kitchen towel and let rise at room temperature until it has doubled in size, for 1 to 2 hours. I like to keep my dough in a warm place.

When ready, turn the dough out onto a lightly floured work surface. Punch down the dough and, using your hand, begin to press it out gently into the desired shape. Place one hand in the center of the dough and, with the other hand, pull, lift and stretch the dough, gradually working your way all around the edge, until it is the desired thickness, about 1/4 inch thick for a crusty pizza base and 1/2 inch thick for a softer one. Flip the dough over from time to time as your work with it, or roll out the dough using a rolling pin. The dough should be slightly thinner in the middle than at the edges.

Using your rolling pin, transfer the pizza dough to a pizza stone, pizza pan or baking sheet, cover with a kitchen towel and let rise again until almost doubled in size, about 20 minutes. Now, your pizza dough is ready to go!
For the pizza:
While your pizza dough is rising (for the second time), preheat your oven to 450 degrees. Brush on the olive oil (you can just use a 1/2 tablespoon if preferred), all over the pizza dough and then spread on your pesto, leaving an inch or two (depending on how much crust you like!) around the edges. Brush the exposed pizza edges with the melted butter. This is how I get my pizza crust edges nicely browned.

Top your pizza with the fresh mozzarella cheese and tomato slices, arranging in whatever pattern you like. Do NOT pile on too much! Keep the toppings light to ensure the pizza crust bakes thoroughly. Also, the tomatoes will release some water so you don't want to pile on too much.

Bake in the hot oven for about 23-25 minutes, or until the crust is golden brown and cooked thoroughly. When finished baking, remove from the oven, let cool for a minute or two and then (if desired) lightly drizzle on a little olive oil (or avocado oil, see my note above), drizzle with balsamic glaze and garnish with fresh basil leaves. Slice and enjoy immediately!