So Simple Pizza Puffs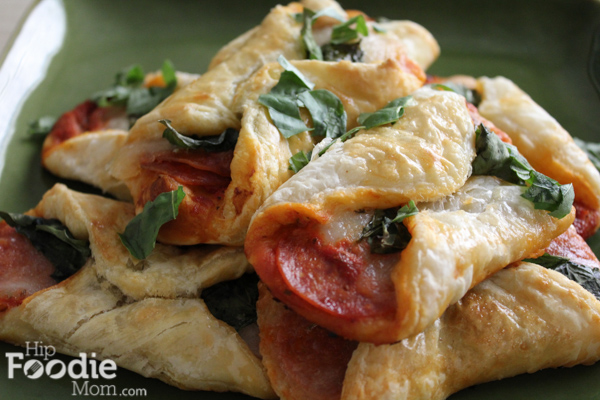 1 sheet puff pastry; thawed
1 can tomato sauce (can use the rest for dipping)
pepperoni
fresh mozzarella; sliced
fresh basil (10-12 leaves)
ALSO NEEDED:
Toothpicks
Preheat the oven to 375 degrees.
Using a cookie cutter, glass jar or small bowl, press down into the thawed pastry dough so you cut round circles from the puff pastry. (You can also just cut the puff pastry dough into 4 squares.) Cut the puff pastry on wax paper or foil so it's easier to pick up.
To assemble: spread some tomato sauce on the pastry dough, lay down the pepperonis (if using), then the mozzarella and top that with a few leaves of basil.
Bring together each end and pin with a toothpick (to ensure the puff stays closed while baking).
Bake for about 15-20 minutes or until lightly golden. Sprinkle on more basil if desired and serve.