Honey Nut Cereal Breakfast Bars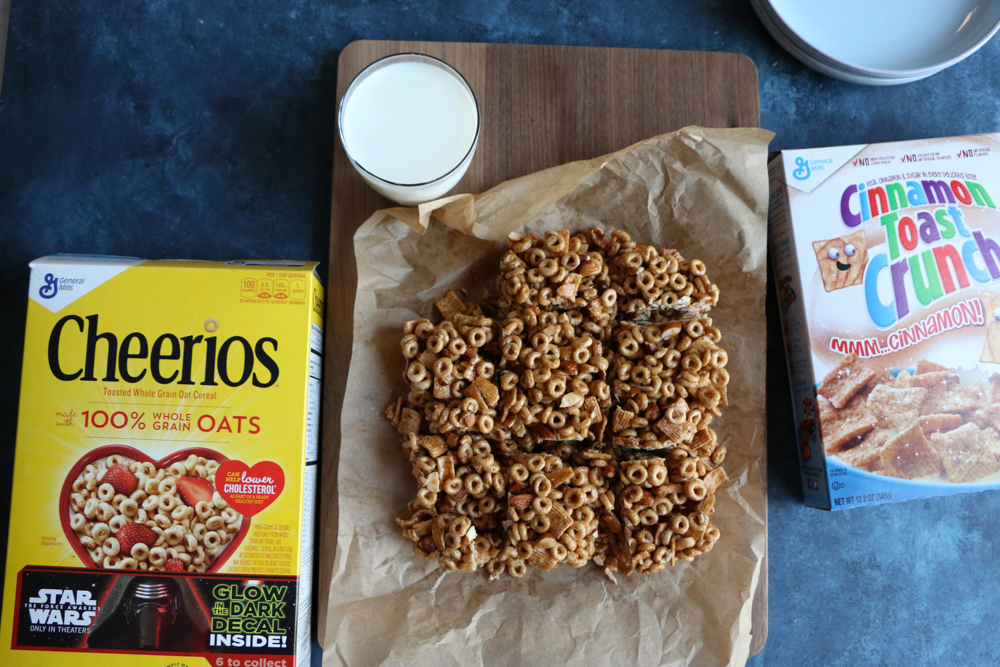 Recipe type:
Breakfast or Snack
3 cups Cheerios
1 cup Cinnamon Toast Crunch
1 cup roasted unsalted almonds, roughly chopped
6 tablespoons unsalted butter
½ cup light brown sugar
½ cup honey
½ teaspoon coarse salt
Pinch of ground cinnamon
Line an 8-inch square baking pan with 2 pieces of parchment paper.
Combine the Cheerios, Cinnamon Toast Crunch and almonds in a large sized mixing bowl. Mix together and set aside.
Using a small sized saucepan, combine the butter, sugar, honey, salt, and cinnamon. Bring to a boil, stirring constantly. Continue to let boil for about 1 to 2 minutes only, then immediately remove from the heat.
Pour over your cereal mixture and quickly mix together. Pour into your lined pan, pressing down with a rubber spatula. Let cool completely (about 30 minutes to one hour), and cut into 12 squares. You can also place into the freezer for about 30 minutes if they are not sticking together or holding their shape when cutting into bars.
Recipe by
Hip Foodie Mom
at https://hipfoodiemom.com/2017/03/06/honey-nut-cereal-breakfast-bars/