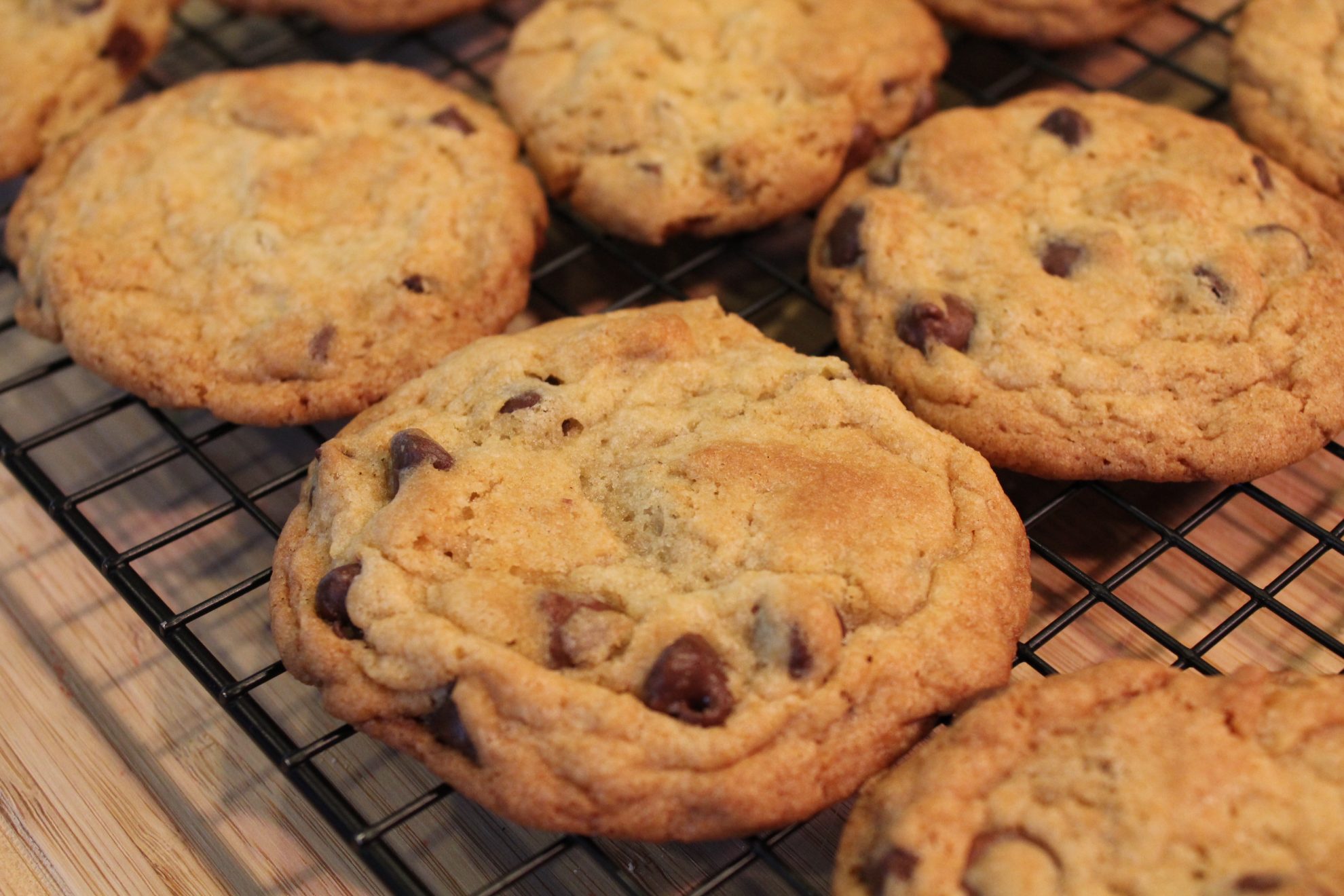 New York Times Chocolate Chip Cookie Recipe
Ok, so I guess every food blog must have a great chocolate chip cookie recipe. . I have always kept my chocolate chips cookies pretty standard, using all the usual suspects as my ingredients and have only experimented with the thickness/texture and what I add to the cookie. Most of my friends enjoy my chunky chocolate chip cookies so I've been baking those for a while now. . and have added dried fruit, oatmeal, nuts, english toffee bits, m&m's and of course, peanut butter morsels (my fave).
My friend and fellow baker/blogger Gotta Get Baked posted this recipe on her blog (you need to read her post!!). . her chocolate chip cookies looked perfect. Perfectly flat, round and delicious. . I knew I had to try this recipe! She used the New York Times Chocolate Chip Cookie recipe. I have to say, this is the first time I have mixed bread flour with cake flour (or regular, all purpose flour) and sifted all the dry ingredients and waited 24 hours. . ok, well, um. . at least 16-18 hours before baking these. These cookies are delicious and what I think a perfect chocolate chip cookie should be. If you haven't tried this recipe, here it is. I think the only change was using regular good ole chocolate chip morsels (a mix of semi-sweet and milk chocolate) instead of the bittersweet chocolate disks or fèves.
A couple things to note:
1) If you don't want to wait 24-36 hours before you can bake these, don't wait. Bake some and try them but then you also have to leave some cookie dough in the fridge for the 24-36 hour wait period so you can do a taste test for yourself. Personally, I think they were delicious both times but maybe the *wait* makes them taste better and you enjoy them more.
2) I put optional for the sea salt sprinkled on top but I highly recommend this. I, personally, love the hint of saltiness after the sweet from the chocolate. If you're not sure, bake some with and some without and tell me what you think.
Hope you enjoy!
The NY Times Chocolate Chip Cookie Recipe
New York Times Chocolate Chip Cookie Recipe
You will need both BREAD flour and all purpose (or cake) flour for this recipe.
Recipe type:
Dessert or Snack
Ingredients
2 cups minus 2 tablespoons cake flour
1⅔ cups bread flour
1¼ teaspoons baking soda
1½ teaspoons baking powder
1½ teaspoons coarse salt
2½ sticks (1¼ cups) unsalted butter
1¼ cups light brown sugar
1 cup plus 2 tablespoons granulated sugar
2 large eggs
2 teaspoons natural vanilla extract
1¼ pounds bittersweet chocolate disks or fèves, at least 60 percent cacao content (or just use semi-sweet and milk chocolate chip morsels; 1 cup of each)
Sea salt to sprinkle on top (optional)
Instructions
Sift flours, baking soda, baking powder and salt into a bowl. Set aside.
Using a stand mixer fitted with paddle attachment, cream the butter and sugars together until very light, about 5 minutes. Add eggs, one at a time, mixing well after each addition. Stir in the vanilla. Reduce speed to low, add dry ingredients and mix until just combined, for about 5 -10 seconds. Drop chocolate morsels in and incorporate them without breaking them. Press plastic wrap against dough and refrigerate for 24 to 36 hours. Dough may be used in batches, and can be refrigerated for up to 72 hours.
When ready to bake, preheat oven to 350 degrees. Line a baking sheet with parchment paper or a nonstick baking mat.
Scoop 6 3½-ounce mounds of dough (the size of generous golf balls) onto baking sheet, making sure to turn horizontally any chocolate pieces that are poking up (if you used the disks); it will make for a more attractive cookie. Sprinkle lightly with sea salt and bake until golden brown but still soft, about 17 to 20 minutes (depending on how large or small your cookie dough balls are).
You might also like…